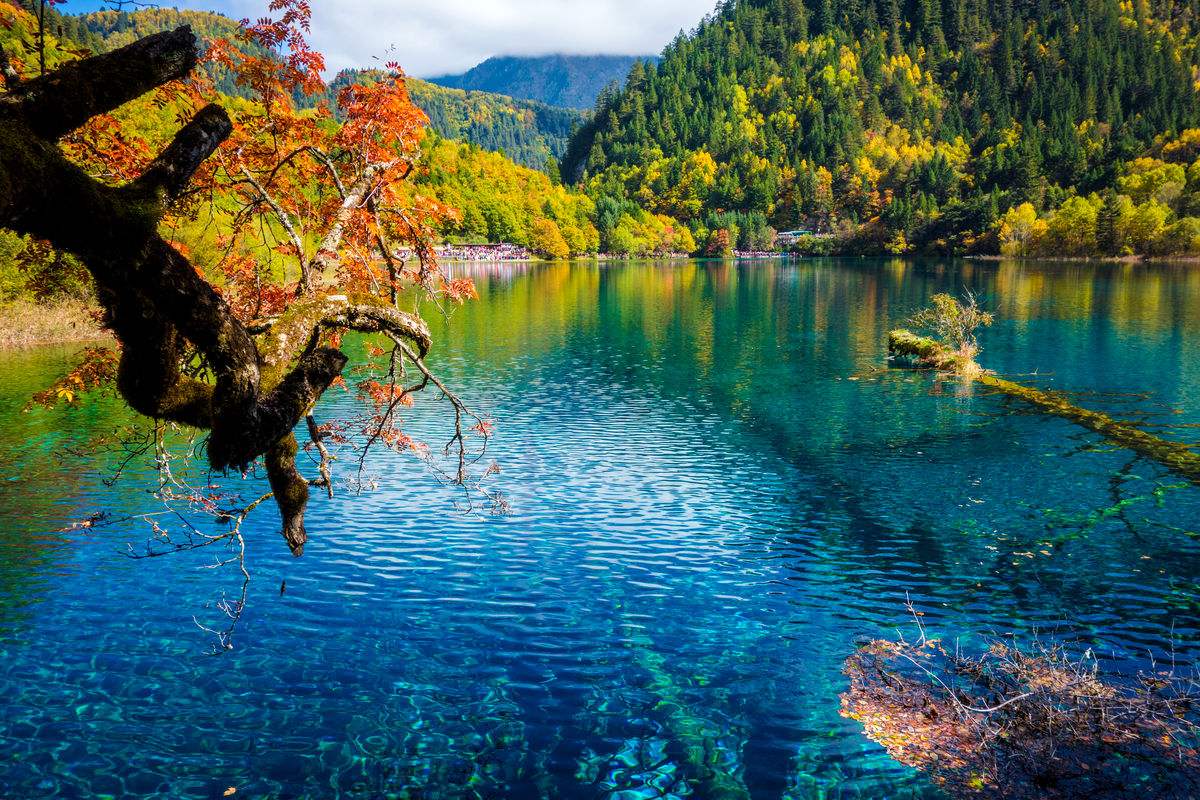 Overview
Jiuzhaigou is located in Jiuzhaigou County, Sichuan Province. It is located on the Qinghai Tibet Plateau and the Western Sichuan Plateau, more than 300 kilometers away from Chengdu City in the south. It is a gully with a depth of more than 50 kilometers. The main protected objects of Jiuzhaigou National Nature Reserve are Giant panda, Golden monkey and other rare animals and their natural ecological environment. There are 74 species of rare plants under state protection, 18 species of national protected animals, and abundant fossil fossils and ancient glaciers.
Weather & Climate
Jiuzhaigou is about 3000 meters above sea level, belonging to the humid climate of the plateau. The temperature of Jiuzhaigou in spring is lower and the change is bigger,the average temperature is between 9 and 18 ?, the weather will be gloomy and cold. In the summer, the temperature of Jiuzhaigou rapidly and stably. The average temperature is 19-22 ?, and it is cool at night. Jiuzhaigou's autumn is same as the spring in Chengdu, the average temperature is 20?. It is recommended to wear shirts, long skirts and thin sweaters, windbreakers, casual clothes, jackets, suits, etc. Jiuhaigou's winter is relatively warm, but the warm clothing in winter is still necessary.
Jiuzhaigou Transportation
Due to the unique geographical location of Jiuzhaigou, you can get to Jiuzhaigou by flight, by car or by long-distance bus (there is no railway station in Jiuzhaigou).
By Flight
Jiuzhai Huanglong Airport is a plateau airport, 88 km away from Jiuzhaigou scenic spot and 43 km away from Huanglong. It was completed and opened to navigation on September 26, 2003. The flights from Chengdu to Jiuzhaigou are different every day. Please check before you leave. The normal flight time is one hour.
By Bus
Chengdu-Jiuzhaigou Bus
Tourists can choose to take the bus to Jiuzhaigou at Chengdu Chadianzi bus station or Xinnanmen bus station. The departure time is 08:00 a.m. (at present, the number of buses from Chengdu to Jiuzhaigou will be adjusted according to the number of tourists, and it will be different every day. When you go to Jiuzhaigou, you can buy a good ticket one day in advance). The ticket price is 141 yuan usually, and the whole journey takes about 10 hours.
Chadianzi bus station
Address: Yangxi overpass, North Third Ring Road
Nanmen bus station
Address: intersection of Linjiang middle road and Xinnan Road, Wuhou District
Public Transportation
1. Sightseeing Bus
Sightseeing buses provided in Jiuzhai Valley brings lots of convenience for visitors. These buses start from the entrance gate of the valley and stop at main attraction sites inside the valley. A round trip inside the valley usually takes about 130 minutes.
2. Taxi
Taxis in Jiuzhaigou County is CNY4-6 for the first 2 kilometers (1.2 miles) due to the different car types. Only a few drivers would use the taximeter.
3. On foot
If tourists would like to get closer to the charming scenery in the Jiuzhaigou Valley, then walking provides the perfect opportunity to do so.
What to pack before visit Jiuzhaigou Valley?
Rain shelter: raincoat, rain mirror, umbrella.
Sunscreen: sunscreen, sun umbrella.
Clothing: coat, sweater, sweater. Flat shoes.
Drugs: hemostatic drugs, oxygen bags, iodine, medical cotton swabs.
Jiuzhaigou Travel Routes
1)Shuzhenggou Valley?Bonsai Beach?Reed Lake?Spark Lake?Wolong Lake?Shuzheng waterfall?Rhinoceros Lake?Tiger Lake?NuoRiLang waterfall
2)Zharugou Valley?Zharu Temple?Zechawagou Valley?Lower season Lake?Multicolored pool?Changhai Rizegou Valley?Jinghai Lake?Pearl Beach?Pearl Shoal Waterfall?Wuhua Lake?Panda Lake?Arrow Bamboo Lake?Jianzhuhai waterfall?Swan Lake?Virgin forest