Jiayang Steam Train
Overview
Located just only 70 km away from the world famous and touristy Leshan Giant Buddha is the Jiayang Steam Train; the train is reputed as the "living fossil of the Industrial Revolution of the 18th century", but sadly, rarely known to travelers who plan to visit Leshan. It boasts as the world's only steam train for normal passengers-transfer on narrow gauge still operates all year around today. If you look for more than beautiful landscapes in Sichuan, an old-fashioned steam train ride in Leshan can be quite an enjoyment.
Arriving at Jiayang Steam Train Station, you may feel as if you have been cut off from the outside world for ages. Jiayang Steam Train departs from an ordinary town in a mountainous area-Shixi Town, but, with its fascination, has attracted many visitors from all over the world over the recent years to feel this legendary invention created 200 years ago and to explore the state of life along the railway. This train terminates at Huangcunjing Station, a famous coal exit in those years, and the railway was originally for transporting raw coal.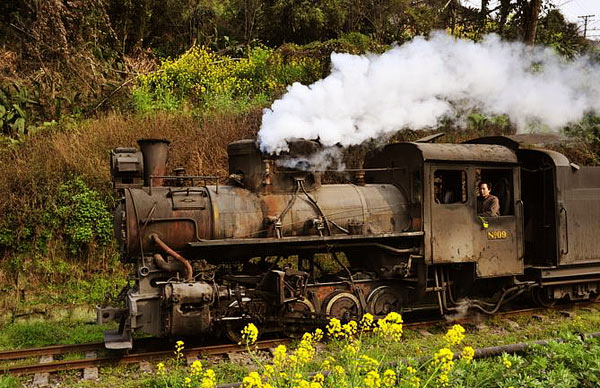 History & Background
The local people are very proud of this railway. In 1938 when the Japanese ran amuck in eastern China, the Kuomintang government was forced to move the capital to Chongqing. With the transfer of political center, a number of military and civilian enterprises had moved in one after another. Weng Wenhao and Sun Yueqi, who were well-known domestically, created a Sino-British "Jiayang Coal Mines Co., Ltd" in Jianwei County of Leshan City and built a narrow gauge railway that was 6.5 km in length and 600mm in width, which provided a lot of energy-use coal for war resistance production. With the increasing demand of coal after the establishment of New China, the railway with the overall length of 19.8km was constructed in 1958 and has operated safely up to now.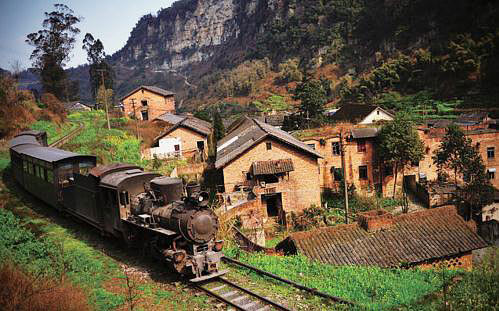 Highlight
Jiayang Steam Train has experienced several functional changes over just a couple of decades, from coal transportation to passenger transportation and finally to a beautiful scenery. It has become a great place for people to know about industrial civilization and to visit the integration of industrial and agricultural civilization. On April 18 of 2006, it was listed as an industrial heritage for protection by Leshan government of Sichuan Province.
Jiayang Sightseeing Steam Train Ticket Price
Peak season (weekends from March 1 to April 30, important public holidays): CNY 80 single way, 100 CNY round trip (at the same train), 20 CNY one station; Low season: CNY 50 single way, CNY 20 one station; Short trip from Yuejin Station to Mifengyan Station: CNY 60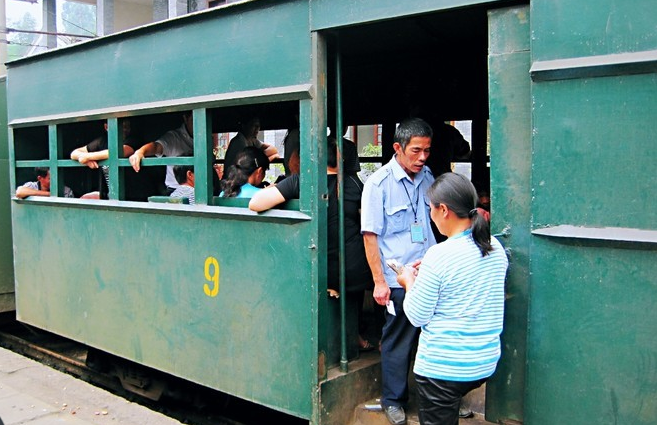 Recommended Visiting Time
Since the entire journey doesn't take a long time—only around 2 hours—you can make this part of your day trip. Nevertheless, there are still a lot of great places to see in Chengdu and Leshan City, so we suggest that you consider staying around the area for at least two hours.

You can proceed to Chengdu's base for the giant panda. From the Qianwei County you can go to Leshan and visit the Mount Emei Scenic Area, along with Leshan Giant Buddha, for one whole day. If you don't want to ride the bus, you can go for the ferry.

Travel Tips
Don't waste time when you want to ride the train. Aside from making sure you can get a ticket, you also need to have a lot of time to visit the various stops, especially the museum.