Chengdu Happy Valley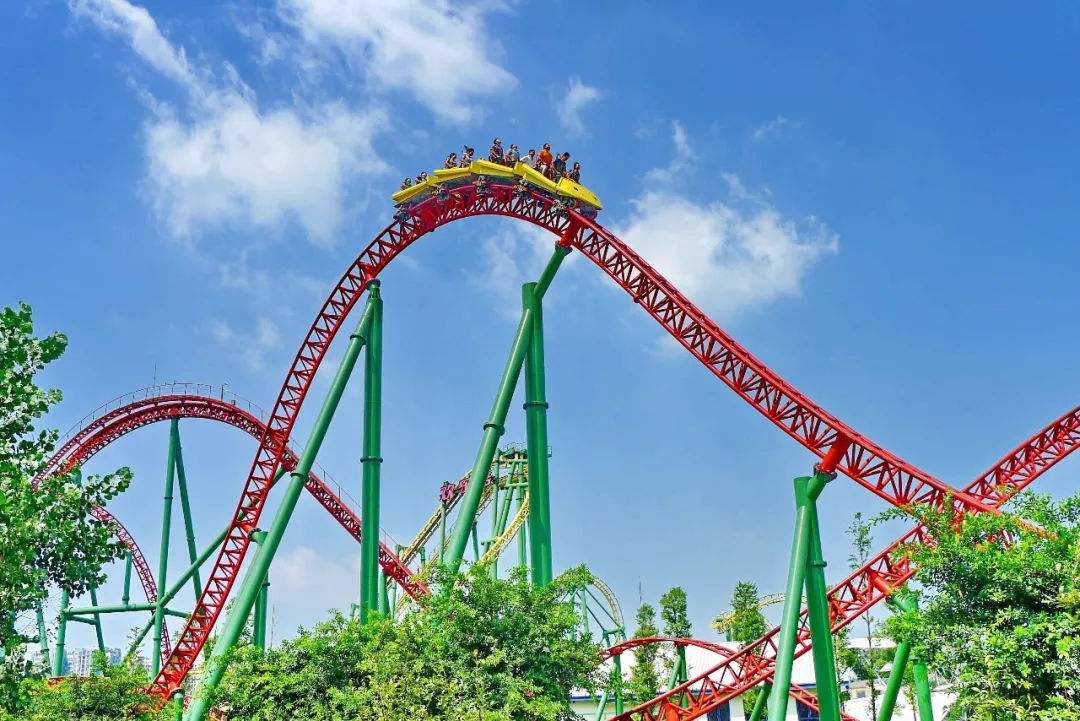 Overview
Chengdu Happy Valley is located at No.16, Xihua Avenue, Jinniu District, Chengdu City, 6.6km away from Tianfu Square. After Shenzhen happy valley and Beijing Happy Valley, Chengdu Happy Valley chain brand is the third stop to China.
Covering an area of 510000 square meters, Chengdu Happy Valley is composed of nine theme areas: Sunshine harbor, Happy time, Caribbean cyclone, Bashu infatuation, Flying island, Magic castle, Flying across the Mediterranean, Happy light year and Silk road legend, with more than 100 scenic spots. Among them, 159 experiential and ornamental projects have been set up, including more than 54 entertainment equipment and facilities, 58 cultural and ecological landscapes, 27 art performances, 20 theme games and commercial auxiliary projects.
Highlights
Sunshine Coast
Entering the main gate and passing through the Sunshine Passageway, you will first come to the Sunshine Coast, where funny looking clowns and lovely cartoon ants give you a warm welcome and lead you to the happy kingdom.
Happy Times
Walking northeastward of Chengdu Happy Valley, Happy Times is open to you. The Ferris wheel built above the water allows you to have an overall view of this area when it ascends higher and higher. A merry-go-round offers you a chance to recall the happy days of childhood. If you are interested in having an adventure, Twin-Tower Heroes is a good choice, and allows you to experience the process of rocket launching; it is the most exciting game in Happy Times. You can also watch the acrobatics show here. If you are brave enough, do not miss the Frightened Ghost, where a pervading sense of menace comes to you.
Overflying the Mediterranean
Next, Overflying the Mediterranean allows you to circle in the air. This is a wonderful journey inside Chengdu Happy Valley. A 4-D cinema is available here, the special effects make you feel that you are on the scene. Besides, the bungee jumping from a 60m-high (197-feet) platform can provide you another exciting experience.
Caribbean Cyclone
To the north of the Happy Times in Chengdu Happy Valley, there is the exciting Caribbean Cyclone that effuses Caribbean atmosphere. The warm sunshine and beautiful beach make you feel that you are actually in the Caribbean. The exciting games test your courage and willpower. A game called 'the heaven revolves and the earth turns' where the two abreast rolling and spinning pendent boats makes people very dizzy and thrilled.
Magical Castle
To the southwest of the Flying Island lies the Magic Castle. The castle is home to magic fairies. This place houses a number of interesting and magical entertainment facilities. You can have a thrilling experience here.
Charming Ba and Shu
Walking northwestward in Chengdu Happy Valley, there is an opportunity to start an adventurous exploration in Charming Ba and Shu. This place reproduces the scene of Ba and Shu Kingdoms in ancient times. Entering the South Gate by the hillside, you will feel like you are going back to the ancient ages. The sound of water, twittering of birds, green plants and a cool breeze make you feel that it is so real. Many fairy tales about Ba and Shu can be learnt in the Charming Ba and Shu.
Flying Island
Going southward and you will reach the Flying Island. Far away from the bustling "world", it is a mystical island surrounded by luxuriant forests. In the natural theatre, all kinds of birds serenade you with their sweet singing. Meanwhile, butterflies dance in the air to the singing. The wonderful performances are a feast for the eyes.
Happy Light-year
The Happy Light-year in Chengdu Happy Valley provides you an opportunity to take part in grand music feast, the crazy carnival as well as various activities during festivals. The Music Square, covering an area of 4,000 square meters (4,780 square yards), and with a capacity of 7,000 people, is a must for philharmonics.
Silk Road Odyssey
In Silk Road Odyssey of Chengdu Happy Valley, you can experience all the adventures along the Silk Road. Desert Rally Racing gives you a 1,000–meter-long ((1,094 yards) roller coaster trip, and Flying Apsaras in Western Region offers another tunnel & water trip.
Information
Address: 16 Xihua Avenue, Jinniu District, Chengdu
Opening Hours: 09:00-21:00
Best time visit: All seasons
Admission Fee: 230 Yuan
How to get there: Take Bus 36, 48, 48 Express, 88, 116, 119, 209, 656, 712, 715, 715a, 1061, g23, or g88 to Huaqiaocheng, and walk southeast for 3 minutes to Chengdu Happy Valley.