Huanglong National Park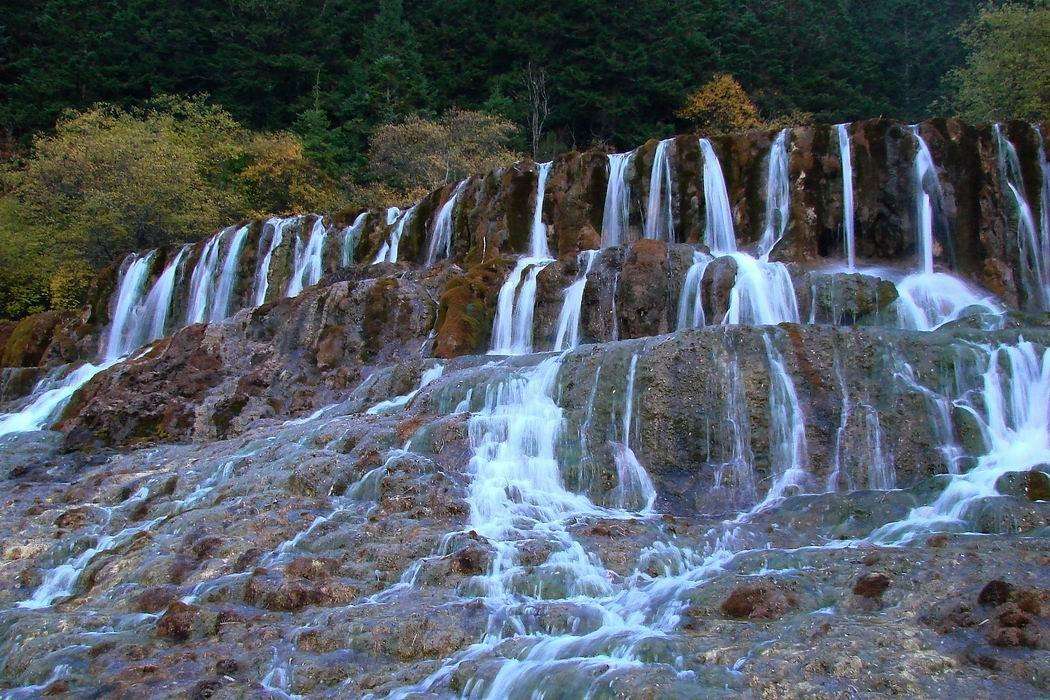 Overview
Located in the southern part of the Minshan Mountain range, Huanglong is a scenic and historic area in northwestern Sichuan, extending over an area of 700 square kilometers (70,000 hectares).
This area is known for its colorful pools created by calcite deposits, especially in Huanglonggou (Yellow Dragon Gully), as well as for its diversity in forest ecosystems, snow-capped peaks, waterfalls and hotsprings. Its highest peak, or Xuebao Peak, measures a height of 5,588 meters and is covered with eternal snow. It is located at the eastern end of China's currently remaining glaciers.

Background
Huanglong is also home to many endangered species, including the Giant Panda and the Sichuan Golden Snub-nosed Monkey. Huanglong was declared a World Heritage Site by the UNESCO in 1992 and listed in the World Human and Biosphere Reserve by the UN in 2000.
Highlight
Huanglong's beauty is beyond mere words, you need see it in person to truly appreciate this 'Fairy Land on Earth'.
Holding the primary area of virgin forest in Huanglong Scenic and Historic Interest Area, the Muni Valley comprises Erdao Lake and Zhaga Waterfall which is the biggest calcified waterfall in all China. Located in the northern part of Muni Valley, Erdao Lake is the largest in the area and around the lake are many underground limestone caves which connect Erdao Lake with other lakes in the area. The color of Erdao Lake varies with the seasons, harmoniously complementing the lake with its surrounding of colored limestone. When standing by the lake, it seems very tranquil and calm; this belies a strong undercurrent that is very active. Erdao Lake holds attractions such as Swan Lake, Baihua Lake, etc. Beside the Baihua Lake, there is a mysterious cave which embraces wonderful and magnificent naturally-formed stalactites. Zhaga Waterfall scenic spot stretches for about 5 kilometers (3 miles), where water flows around trees and trees grow in water and this scenic spot boasts many attractions. At the bottom of Zhaga Waterfall, there is a round-shaped stone onto which the waterfall cascades. In the sunlight, the spattering water is like jade, exhibiting wonderful colors. This is the Jianyu Tai (spattering jade platform).Guhuashi (ancient fossils) is the place where a number of prehistoric, fossilized animals, plants and fish are well preserved and remain intact. Feicui (Emerald) Spring is one of the ten most famous springs in China due to its water's medicinal value, and many have recovered from stomach sickness and arthritis after drinking or bathing in its water. The local population considers Feicui spring divine and allows nobody to cause damage.
The Huanglong National Scenic Reserve gained its fame for its magical landscape of limestone formations, as well as the forest ecosystems and animals on the brink of extinction, such as the giant panda and Sichuan golden snub-nosed monkey.

Information
Location: Pingsong Road, Songpan, Aba, Sichuan
Web address: www.huanglong.com
Phone number: 724 9188
Opening Time: 8:00-17:00
Ticket Price: April to 15. November CNY200; CNY100 for students and seniors. 16. November to March CNY60; CNY50 for students and seniors
Time for visiting: 4-5 hours