Qingyin Pavillion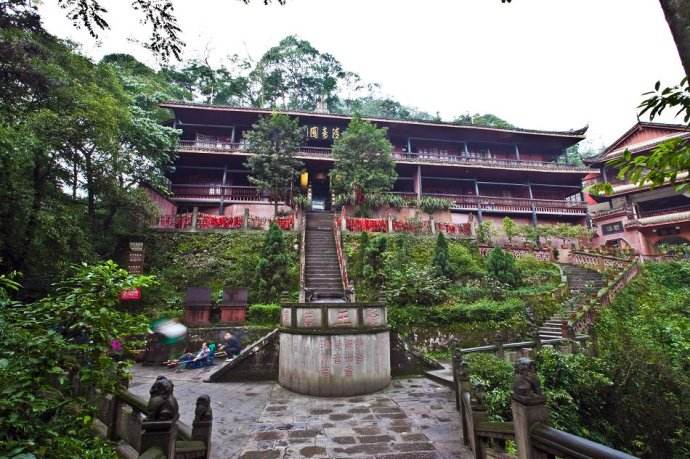 Overview
Qingyin Pavilion is located at the foothill of the Niuxin Ridge. It leads to Hongchunping and Xianfeng Temple on the left, and Bailong Cave and Wannian Temple on the right. It is a place where you must go up the mountain for worship and sightseeing. Shuangqiao Qianyin is also located here which is one of the ten traditional scenic spots of Mount Emei. The Qingyin Pavilion is surrounded by mountains and water, the scenery is beautiful and it can be called a model of Chinese Buddhist temple garden architecture. It is a great place to take pictures of Mount Emei, so there are many tourists. If you want to take pictures at the best place, you need to be prepared to queue.

History of Qingyin Pavilion
During the Northern Song Dynasty, Emperor Song Taizu (Zhao Kuang) asked Tianshouyuan monk Jiye Sanzang and others monks go to Tianzhu for the buddhist relics, Jiye Sanzang and his party brought back a large number of scriptures and Buddha bone relics from India to worship the court; Song Taizong Zhao Guangyi ordered these sacred objects to be practiced on the famous mountains; after he traveled around the famous mountains and rivers of the motherland, he chose to settle down in Yanfuyuan, Emeishan. Because of the intersection of black and white waters in front of Xiangzhong Temple, he made a wish to build a new temple here, To provide for life, the temple was named Qian Niuxin Temple after its completion.

During the Ming Dynasty (1369), the monk Guangji Zen Master of Fengyang Phoenix Mountain Longxing Temple (Zhu Yuanzhang used to be a monk here, later renamed Huangjue Temple) came to Mount Emei and resided here in Tin; according to legend, Guangji and Ming Taizu Zhu Yuanzhang The exchanges were very close. After Zhu Yuanzhang became emperor, Guangji was unwilling to accept Zhu Yuanzhang's edict, so he entered the Emeishan Zen and hid here.

According to the natural scenery embraced by the mountains and rivers here, Zen Master Guangji also saw that the pavilions, terraces, buildings, pavilions and the gurgling water were harmoniously blended. So he changed into the name to "Qingyin Pavilion".
In history, the pavilion caught fire three times, and it is now rebuilt after 1917. Due to the limitation of the terrain, the Qingyin pavilion has only one hall dedicated to the three saints of Huayan. The center is Buddha Shakyamuni, the left is Manjushri, and the right is Samantabhadra. .

What to See in Qingyin Pavilion
In Qingyin Pavilion, you can see Hongya, flowers and fragrant smell, hear Nagareizumi voiceless, touch to the pavilion monument. It focused on the visual beauty, acoustic beauty, smell the U.S., so the traveler can get the overall aesthetic experience Emei scenery. The number of visitors past and present reputation as "the first Mount Emei Scenic."
Voiceless Pinghu in Qingyin Pavilion, an area of 300000 square meters, Department of green lake, water quality pure, clean through the bottom.
Green Crest Green around the peaks surrounded, and ancient trees, lakes such as jade embedded in them, deep and shallow, bit by bit, really do not know the tree reflects green lake, or Lake dyed green tree.

Travel Information
Location: Emeishan Scenic Area, Emeishan City, Leshan City, Sichuan Province (near Wuxiangang Parking Lot)
Opening time: 06:00-17:00(summer); 07:00-16:00(winter)
Ticket Price: Free (inlcuded in the entrance of the Mount Emei)
Time for visiting: 2 hours
How to get there: you can walk around 30 minutes from Wangxianggang parking lot