Literature
Some of China's most important literature comes from Chengdu: Chengdu has been home to literary giants, such as Sima Xiangru and Yang Xiong, two masters of Hanfu, a mixture of descriptive prose and verse during the Han dynasty; Li Bai and Su Shi, the most eminent poets of the Tang and Song dynasties respectively; Yang Shen'an, a famous scholar of the Ming dynasty; and Guo Moruo and Ba Jin, two well-known modern writers. Chang Qu, a historian of Chengdu during the Jin dynasty, compiled the earliest local historical records, the Record of Hua Yang State. Zhao Chongzuo, a poet in Chengdu during the Later Shu Kingdom, edited Among the Flowers, the first anthology of Ci in China's history. Meng Chang, the king of Later Shu, wrote the first couplet for the Spring Festival, which says, "A harvest year accepts celebrations, good festivals foreshadow long springs."
Fine art
During the period of the Five Dynasties, Huang Quan, a painter in Chengdu, initiated the Fine-Brush Flower-and-Bird Painting school with other painters. At that time, "Hanlin Painting Academy" was the earliest royal academy in China.
Education
Wen Weng, administer of Chengdu during the Han dynasty, established the first local public school now named Shishi (literally a stone house), in the world. The school site has not changed for more than 2,000 years, which remains the site of today's Shishi High School.
Theater
The saying "Shu opera towers above all other performances in the world" reflects the achievement of Sichuan Opera and Zaju (an ancient form of comedic drama involving dancing, singing, poetry, and miming). In the city, the first named opera "Bullfighting" was written in the Warring States Period.[clarification needed] The first detailed recorded opera was staged in the royal court of Shu Kingdom during the Three Kingdom Period. China's first clearly recorded Zaju was also performed in Chengdu. Tombs of witty Han dynasty poets were excavated in Chengdu. And face-changing masks and fire breathing remain hallmarks of the Sichuan Opera.
Language
The native language in Chengdu is Sichuanese, otherwise referred as Sichuan dialect. More precisely, "Chengdu Dialect" (???/????) is widely used in lieu of "Sichuanese" due to the largely different accents of Sichuanese speakers residing elsewhere.
Culinary art and tea culture
The distinct characteristic of Sichuan cuisine is the use of spicy chilies and peppercorns. Local dishes include Mapo doufu, Chengdu Hot pot, and Dan Dan Mien (meaning "Noodles carried on a pole" Dan Dan Noodles). All three dishes are spicy. Mapo Doufu and Dan Dan Mien contain Sichuan peppers to give them additional flavor. An article by the Los Angeles Times (2006) called Chengdu "China's party city" for its carefree lifestyle. Chengdu has more tea houses and bars than Shanghai despite having less than half the population.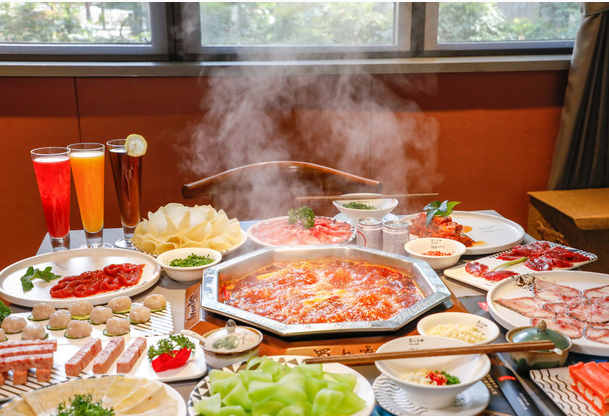 Sichuanese cuisine features careful pairings of boldness and subtlety in dishes, snacks, banquets, and hotpot. A characteristic adage goes: 'one dish, one style; one hundred dishes, one hundred flavors; flexible use of hot chilis and delicate flavors.' Of thousands of dishes, each has a story behind it.

The local snacks in Chengdu are known for creative ingredients, skilled preparation, wide variety, and cheap prices. Tastes range from sweet and spicy to sour and hot in a range of cooking techniques including frying, stewing, baking, steaming and boiling. Common snacks found across town include noodles, wontons, dumplings, pastries, tangyuan (sweet rice balls), drinks, salads and soups.

With over a thousand years of history, Chinese tea culture is perhaps best exemplified by the bamboo chairs and wooden tables found in the hundreds of tea houses throughout Chengdu, with jasmine tea served as the local staple. As early as the Western Han period, both tea trade and tea culture were very prosperous in Sichuan with Chengdu the starting point of the Southern Silk Road.

Chengdu is an officially-recognised UNESCO City of Gastronomy.

Teahouse
Traditional tea houses in Chengdu usually feature bamboo chairs and wooden tables and offer jasmine, long jing and biluochun tea.
Modern tea houses can be spotted on almost every city corner. The price for tea varies from 5 RMB to several hundred. Besides tea and snacks, almost all tea houses offer Majiang sets, tables, and sometimes separate majiang rooms. Most locals go to tea houses to play majiang with friends. Some luxury tea houses in Chengdu also offer live entertainment such as Sichuan opera shows.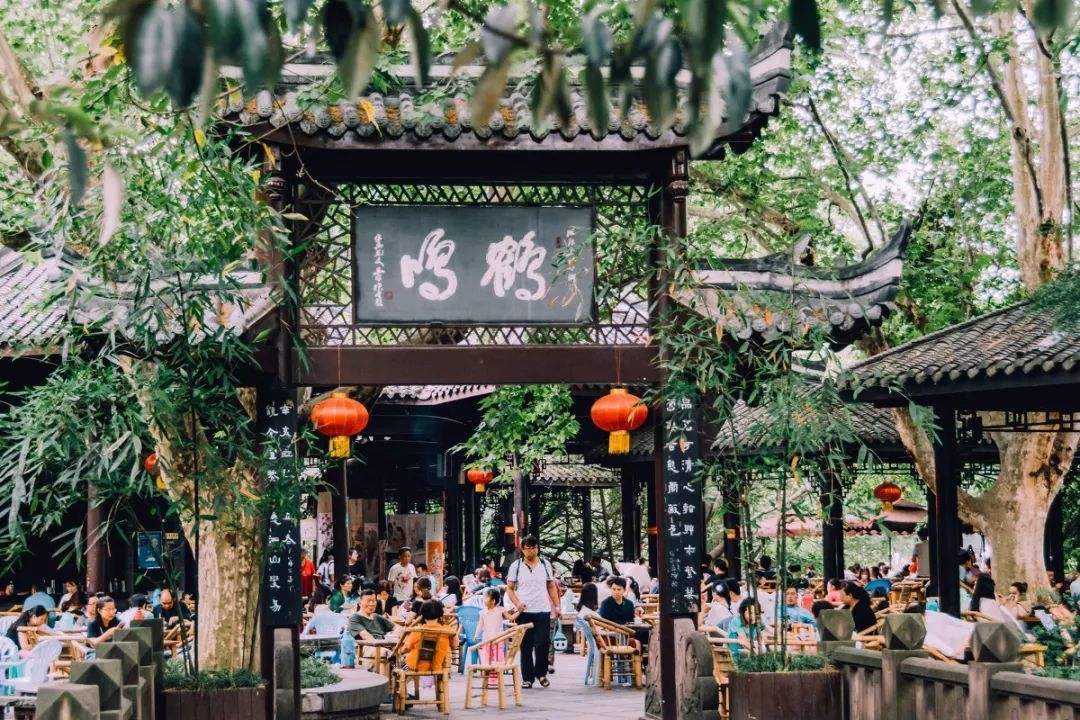 Mahjong
Mahjong has been an essential part of most local peoples' lives. After every day' s working, people gather their friends in their home or in the tea houses on the street to play Mahjong. On sunny days, local people like to play Mahjong on the sidewalks to enjoy the sunshine and also the time with friends. Almost every person plays Mahjong with money: rich people play with more money, and the poor people play with less money. In all, everyone is excited and interested in playing with money.
Mahjong is the most popular entertainment choice among locals for several reasons. Chengdu locals have simplified the rules and made it easier to play as compared to, Cantonese Mahjong. Also, Mahjong in Chengdu is a way to meet old friends and to strengthen family relationships. In fact, many business people negotiate deals while playing Mahjong. Furthermore, the elderly like to play Mahjong because they believe Mahjong makes them think and prevents dementia.