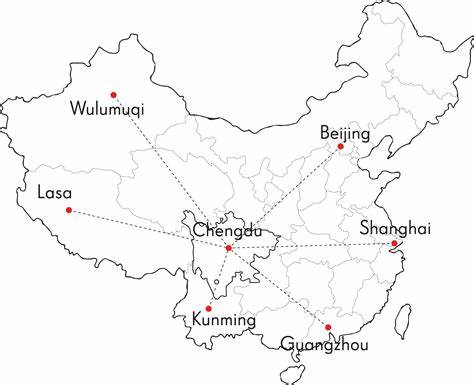 Overview
Centrally located in the western Sichuan Plain, with a history of over 2300 year, Chengdu, the capital of Sichuan Province, is renowned for its fertile land and agricultural wealth which have earned the city the nickname 'Storehouse of Heaven'. Covering an area of 12390 sq km, it is 192 km long from east to west and 166 km wide from south to north. Up to the year 2003, the city zone of Chengdu is 283.80 sq km.
Chengdu has been famous for its rich cultural heritages. Within its jurisdiction are Qionglai city, Chongzhou city and Pengzhou city, all of which are listed as Cities of Rich Cultural and Historical Heritage by the government of Sichuan province. In November 2000, Dujiangyan Irrigation System and Qingcheng Mountain (the Taoist Mountain) were ranked as Cities of the World Cultural Heritage by the United Nations Educational, Scientific and Cultural Organization (UNESCO).
Besides, the local teahouses, snack bars and bazaars (also known as free markets) are still the popular places for tourists to frequent. One can either taste the typical Sichuan cuisine, local wine and tea or sort out his shopping of local special products like Shu embroidery pieces, bamboo- woven porcelain ware and lacquer ware or familiarize himself with local folklores and customs.
Map of Chengdu Subway
Chengdu Metro is the rapid transit system of Chengdu, the capital of Sichuan, China. The system consists of 7 subway lines and 1 light rail line. Line 1 was opened on 27 September 2010, making it the first heavy-rail metro line in southwest China. Line 2 began operation in September 2012. Line 4 opened to public at the end of December 2015, while Line 3 opened in July 2016. Metro lines are operated by Chengdu Rail Transit Group Company Limited. There were over 215 km of subway lines under construction in Chengdu in 2017. There will be 13 subway lines of totalling 521 km of length and expected to serve over 8 million trips per day.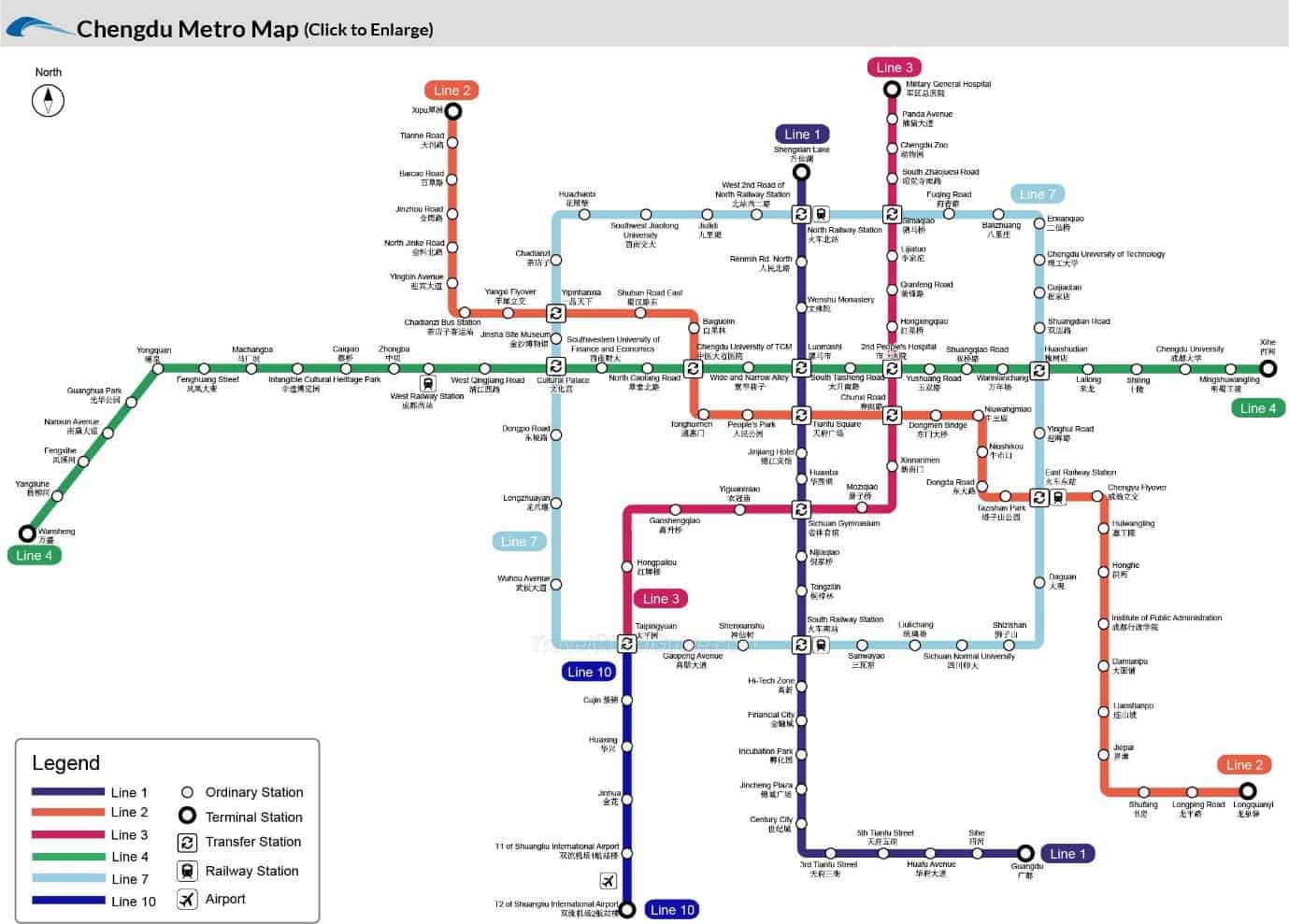 Chengdu Tourist Map
In Chengdu, you'll also taste incredible Sichuan cuisine, meet with friendly locals, explore beautiful temples, shop at local markets, visit UNESCO sites, and learn about the regions rich history and ancient culture. The Chengdu tourist map as following: