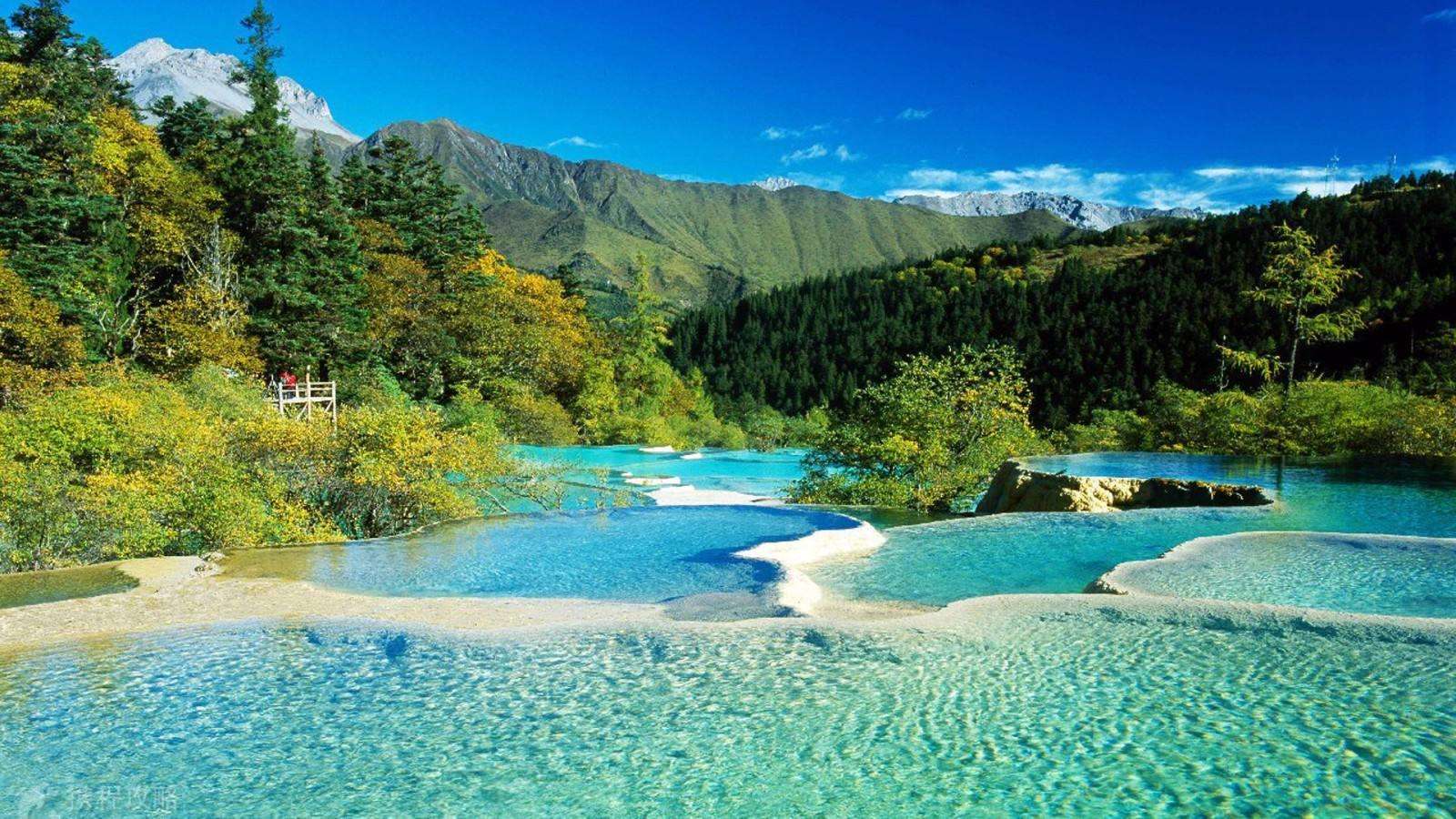 Want to choose Jiuzhaigou as your tourist destination, but no idea how to visit Jiuzhaigou in the first time? Jiuzhaigou is located in Jiuzhaigou County, Sichuan Province. It is located on the Qinghai Tibet Plateau and the Western Sichuan Plateau, more than 300 kilometers away from Chengdu City in the south. It is a gully with a depth of more than 50 kilometers. The main protected objects of Jiuzhaigou National Nature Reserve are Giant panda, Golden monkey and other rare animals and their natural ecological environment. There are 74 species of rare plants under state protection, 18 species of national protected animals, and abundant fossil fossils and ancient glaciers.
Steps for making a Jiuzhaigou Tour
1) Choose your travel period & plan how many day stay in Jiuzhaigou.
2) Book flight tickets to Jiuzhaigou&Huanglong and make hotel reservation.
3) List the best things to do in Jiuzhaigou & Make a detailed tour itinerary if you want to visit Jiuzhaigou on your own; If you want to book a fully guided Jiuzhaigou tour, you can ask for a local Jiuzhaigou tour company to design a tour itinerary for you and confirm the tour booking at the end.
4) Apply for the tourist Visa to visit Jiuzhaigou.
5) Start preparing your luggage near your travel date.
Best Things to Do in Jiuzhaigou
Are you looking for what to do in Jiuzhaigou National Nature Reserve? There are so many things to see, do and eat in this beautiful National Nature Reserve-Jiuzhaigou. Below are the popular activities in Jiuzhaigou:
1) "Haizi" Lake
Water is the soul of Jiuzhaigou. The small lakes in Jiuzhaigou are usually called "Haizi". The water of the lake is blue and clear all year round, and presents different colors with the change of illumination and the passage of seasons. In the whole ditch, strange lakes are scattered, and you can't catch sight of them. More than 100 lakes are surrounded by ancient trees and flowers. The lakes are connected by waterfalls of torrents, each with its own characteristics and endless changes.
2) Water Fall
Jiuzhaigou is a world of water and a kingdom of waterfalls. All the waterfalls ran out of the dense forest. Here is the width of the country's largest "Norilang Wwaterfall.". When the sun shines, there are often wonderful rainbows, which make people enjoy the sight and forget to go back.
3) Colorful Forest
The colorful forest, known as one of the six wonders of Jiuzhaigou, covers more than half of the area of the scenic spot. There are more than 2000 kinds of plants, which are full of exotic flowers and plants. The plants bathed in the hazy mist are mysterious and unpredictable. The forest land is covered with thick moss, scattered with birds and beasts feathers, full of primitive flavor. With the change of seasons, the 30000 hectares of wild and cangcangcang primeval forest presents a variety of wonderful scenery.
4) Snow Mountain
Jiuzhaigou mountain is tall and straight. Winter snow peak, panoramic view. The iceberg under the bright sun often makes the tourist lost.
5) Tibetan Customs
In history, Jiuzhaigou is a great corridor of ethnic integration. Geographically, Jiuzhaigou is located in the transition zone from the northeast edge of Qinghai Tibet Plateau to Sichuan Basin, and culturally in the transitional zone from Tibetan area to Han region and pastoral area to agricultural area. Therefore, Jiuzhaigou culture presents a strong edge cultural color and broad and free tolerance. On the one hand, Tibetan compatriots maintain their own unique cultural traditions, such as mysterious primitive religion, complex architectural style, clothing style, passionate festivals and so on; on the other hand, they live in harmony with the surrounding Qiang, Hui and Han nationalities, influencing and infiltrating each other, forming a diversified cultural pattern.
Best Time to Visit Jiuzhaigou & What to Pack for Jiuzhaigou Tour
Basically, it is suitable to visit Jiuzhaigou all year round, but it must be sunny day.
1) In spring, the snow and ice melt in Jiuzhaigou, and the mountain flower plants are full of vitality.
2) In summer, Jiuzhaigou is in the wet season, and green is the main color of Jiuzhaigou.
3) Autumn is the season with the most tourists in Jiuzhaigou. The clear sky, the red leaves and colorful forests are reflected in the beautiful lake. But pay attention to avoid holiday.
4) There are few tourists in Jiuzhaigou in winter. The scenic area is very quiet and full of poetic and picturesque flavor.
What to Pack
Spring(Mar.-May): The average temperature is between 9 and 18 ?, the weather will be gloomy and cold, you need pay attention to keep warm.
Summer (Jun.-Aug.): The temperature of Jiuzhaigou rapidly and stably. The average temperature is 19-22 ?, and it is cool at night, so you'd better thin sweater.
Autumn (Sept.-Nov.): Same as the spring, the average temperature is 20?. It is recommended to wear shirts, long skirts and thin sweaters, windbreakers, casual clothes, jackets, suits, etc.
Winter (Dec.-Feb.): Jiuhaigou's winter is relatively warm, but the warm clothing in winter is still necessary.
Where to stay in Jiuzhaigou
Jiuzhaigou scenic area has been rebuilt for two years. At present, most of the areas have been opened. At present, there are 3 5-star hotels, 3 4-star hotels, and various local home stay. The traffic to the scenic spot is very convenient.
How to get around Jiuzhaigou
If tourists would like to get closer to the charming scenery in the Jiuzhaigou Valley, then walking provides the perfect opportunity to do so.