Chengdu Tour Guide Emily
Post Date: 2020/07/03 12:34
Share to:
About Me
Hello, this this Emily, a native girl from the centeral part of China, Sichuan Province. Now, i'm a full time English speaking tour guide work for Chengdu Private Tour company over 6 years, i can provide the tour guide, Interpreter, Business assistant, Shopping assistant as well as Airport/train station pickup service. Nobody likes to be treated as tourist when travelling, I would like to communicate with the local people, to see the local market, to know the local life of the people, but not just go to some sightseeing places and take photos, get on the car and leave. I will be a your good travel assistant in Chengdu.


Specialty & Personality
I am a patience, knowledgeable and full of passion felmale tour guide in Chengdu, I pay attention to every detail in life and responsible for my work.
I'm an English major graduate, so i can speak fluent English with my customers. I also learnt the French during my spare time, i can speak some french as well. I am an easy going Sichuan girl who like explore the food in different place, many people said you are a foodie but more like a food expert, with a rich knowledge of the Sichuan culture and history, food culture and more.


Hobby
I dare to challenge myself, i love the rock climbing and cycling. Rock climbing is a great way to workout without feeling like you are. I love visiting new climbing destinations and gyms in cities I travel to. Cycling comes in different forms and is a great way to explore and challenge yourself, I often cycling around the Chengdu city center and rural area of Chengdu with my friends after the work. My family and some friends said they are not suit for a girl, but I think both of them are good way to strength my body.


My Story
As a native girl from Chengdu, i grown up and studied in this lovely city. I enjoyed my time as a local tour guide in Chengdu and so lucky became one of members in Chengdu Private Tour this company. As a tourism major graduate, I quickly adapted to the job and took more thousand of tourists who come from all around the world, and i got many postive feadback from my lovely guests.

When i finished my study in China, I went to Paris for study over 3 years. During that time, i felt very tough and couldn't used to the lifestyle there. At the begining, i can't speak frence only English, but there few people speak english in my area, the language was a big problem for me stay in Paris. Later, i tried to study French and take every chance to speak with native speakers. Gradually, my french improved a lot and i felt much easy to live in Paris. I learnt the western culture and experienced the lifestyle, it is also one of the reasons why i choose to work as a inbound tour guide to get close to the western travlers. I can know more culture about the foregin countries.

Actually, i also faced many difficulties during my working period, took many tourists who have lots of unreasonable requrests, some travelers who are disabled. But i regarded them as my best working experience, it helped me grow up and became a more professional tour guide. I enjoyed most of time with my guests, they shared thier daily life to me and i showed the best part of my hometown to them, it is a process of learning between each other.


My Impression of Chengdu
I am a foodie, i love eating and know the best dining in Chengdu. Many tourists not only come Chengdu for sightseeing but also for the food culture. Speaking of things to eat in Chengdu, hotpot is a must-try, especially for foodies favoring hot and spicy food. Generally, people sit around the table, add various meats and vegetables to the hotpot and enjoy a good time together. Besides that, there is a special Chuanchuan Hotpot that is very popular among local people. The biggest difference between Chuanchuan and traditional hotpot is that Chuanchuan features foods stuck on skewers and boiled in the hotpot. In general, both the traditional hotpot and Chuanchuan are the top things you can't miss in Chengdu.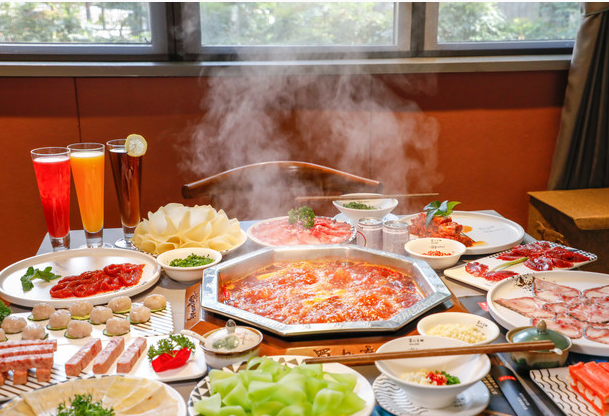 Sichuan Hot Pot

Sichuan Cusine is one of the famous cuisines in China with a long history. There's more than street food in Chengdu. Sichuan has an incredible array of dishes that will tantalize your tastebuds. These are some of our favorite Sichuan dishes found in Chengdu. It is famous for its spicy, hot flavor. For those who are addicted to spicy food, Chengdu will be a paradise. Ma Po Tofu, Kung Pao Chicken and Sliced Beef in Hot Chili Oil are popular dishes.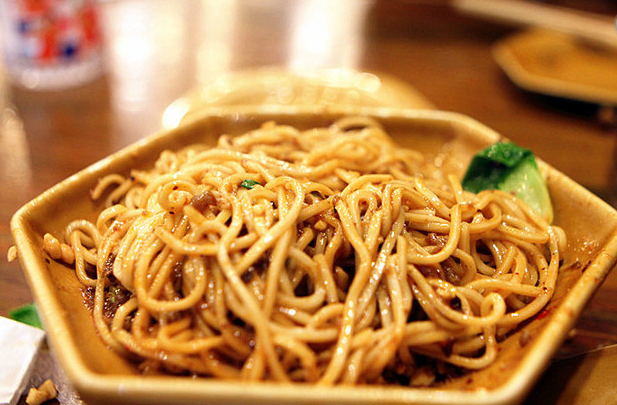 Sichuan Dandan Noodles

Chengdu is the food paradise, it also famous for the local snacks, such as the Lai's Glutinous Rice Ball, Long Wonton, Dan Dan Noodles, Meat Pie, Stinky Tofu

If you are a vegetarian: Let the wait staff know you want to eat vegetarian by telling them 1) ??? wo chi sù which translates to "I eat vegetarian" or 2) ???? wo bù chi ròu which translates to "I don't eat meat." I was able to find many vegetarian options in Chengdu using those two phrases.